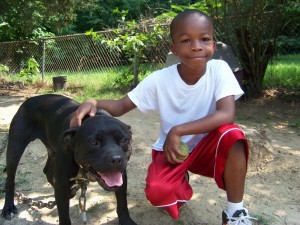 Beyond Fences is a registered 501(c)3 non-profit organization, so your donation is tax-deductible.
We also hold special events throughout the year which require sponsorships.   Please contact us if you are interested in sponsoring an event and receiving recognition for your business or group in return.
To donate by mail, send donations to:
Beyond Fences P.O. Box 3259 Durham, NC 27715
DONATIONS OF TIME AND MATERIALS
In addition to financial donations, we also welcome donations of time and materials to help build fences and dog houses.
Save on items you purchase online by using Capital One Shopping a free tool that compares prices among various retailers to ensure you are getting the best deal possible while supporting Beyond Fences at the same time.
We are always in need of the following materials:
New or gently used igloo or plastic style dog houses
Indoor wire crates
Medium and large plastic airline crates
New or gently used 5′ and 6′ chain link fencing
New or gently used 5′ and 6′ welded wire fencing
5′ (or taller) dog kennel panels
6 1/2′ & 7 1/2′ metal T-posts
5′ and 6′ walk-through gates (42′ wide)
8′ x 4 x 4 wood posts
Dog food
Wheat straw and cedar shavings
To volunteer your time or offer materials, please send an email to lori@beyondfences.org
[et_pb_line_break_holder _i="0″ _address="0″ theme_builder_area="post_content" /][et_pb_line_break_holder _i="1″ _address="1″ theme_builder_area="post_content" /][et_pb_line_break_holder _i="2″ _address="2″ theme_builder_area="post_content" /][et_pb_line_break_holder _i="3″ _address="3″ theme_builder_area="post_content" /][et_pb_line_break_holder _i="4″ _address="4″ theme_builder_area="post_content" /][et_pb_line_break_holder _i="5″ _address="5″ theme_builder_area="post_content" /][et_pb_line_break_holder _i="6″ _address="6″ theme_builder_area="post_content" /][et_pb_line_break_holder _i="7″ _address="7″ theme_builder_area="post_content" /]